During the five years that I have been advising clients on IT cost-transparency initiatives, I've never gotten tired of watching how Technology Business Management (TBM) can transform an IT organization. From creating process changes that bring about faster delivery times, to finding new synergies between IT and the business, to increasing clarity in financial and strategic decision making, TBM has proven time and again to be a powerful tool for managing the business of IT.
At the outset, I believed that the real secret weapon in this transformation was TBM technology. But over time, I have come to understand and define TBM as a multidimensional approach that includes technology but is largely powered by a set of specific and disciplined processes and frameworks.
I see, again and again, that clients who are better positioned for long-term success with IT cost transparency have embraced this two-pronged model:
1st Dimension: TBM Technology
Companies begin by implementing automated cost-transparency software, such as the Software-as-a-Service applications provided by Apptio. The company's market-leading TBM software, the Apptio TBM Unified Model (ATUMTM)—developed with industry best practices and standards that are being set by the TBM Council—gives IT leaders visibility into the total cost and unit costs of delivering their technologies, applications and services.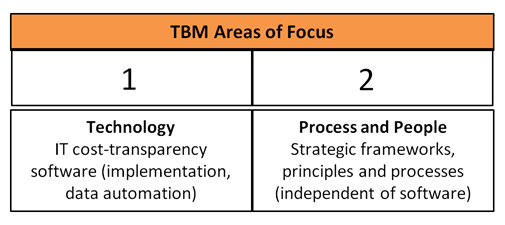 2nd Dimension: TBM Process Framework
The strategic frameworks, principles and processes that underpin the TBM methodology are independent of any specific technology. By definition, many TBM processes serve as foundational principles for frameworks used in IT Financial Management, ITIL and COBIT to help join operational and financial data in a meaningful way—often for the first time.
Though the greatest initial advantage to an enterprise developing a TBM program is to have a proven TBM technology software solution in place, it is the multi-dimensional approach to TBM―within the context of a broader IT performance management framework—that keeps enterprises strategically competitive, agile and innovative.
Interested in learning more about TBM as a strategy for IT transformation? Contact me to discuss further.

Read the latest press release.
About the author


Alex-Paul works closely with enterprise leaders, IT finance managers and IT business unit leaders to help implement the discipline of Technology Business Management (TBM) into their organizations and optimize their enterprise IT. He advises both commercial and public sector organizations on the adoption of TBM programs, designs fact-based analytical strategies and supports broader IT transformation initiatives. His development of a strategic TBM multi-dimensional framework addressing people, process, data, analytics, technology and strategy is part of ISG's industry-leading set of market best practices and methodologies. His thought leadership has been featured in CIO Review,
MiddleMarket Executive
and the TBM Council's book
The Four Value Conversations CIOs Must Have with Their Businesses
.