Is It Really a Case of "Old Wine in a New Bottle?"
Though contracting with database software and technology giant Oracle has long been a serious challenge for enterprise IT organizations, the benefits usually outweigh the risks. The company continues to bring customers new and innovative offerings even while moving much of its traditional products into the cloud.
Oracle's next-generation technology supports both applications and infrastructure with the following offerings:
Oracle Cloud Applications is a suite of integrated applications designed to streamline the enterprise business process. It includes Analytics Cloud, Fusion Analytics Warehouse and Streaming. Application Development is supported via Oracle's API gateway, Application Express, Blockchain Platform, Content and Experience, Digital Assistant, Events, Functions, Mobile Hub, Visual Builder and Studio and WebLogic Server.
Oracle Cloud Infrastructure delivers highly automated and secure infrastructure, combining the elasticity and utility of public cloud with granular control, security and predictability of on-premises infrastructure. This covers Analytics, Application Development, Applied Software Technologies, Compute, Database, Integration, Observability and Management, Networking, Connectivity and Edge Services, Security, Identity and Compliance and Storage.

Oracle's Hybrid Cloud provides what it calls Roving Edge Infrastructure to ensure the predictability of on-premises infrastructure. Its Governance and Administration modules include Audit, Budgets, Cloud Advisor, Cost Analysis, Support Management and Tagging, providing the granular control and utility of public cloud. The Integration, Management and Diagnostics, Storage, Security, Identity and Compliance features provide the elasticity of a public cloud with the security of on-premises infrastructure.
Oracle's Marketplace, Networking, Edge and Connectivity features extend the elasticity of public cloud. And its Enterprise Manager Cloud Control features help customers manage and monitor Oracle technologies, such as Oracle Database, Oracle Fusion Middleware, and Oracle Fusion Applications, through components known as plug-ins that can be downloaded and deployed using the new Self Update feature. Oracle's architecture center contains reference architecture, quick start guides, solution playbooks and best practice frameworks.
Oracle and its large system integration partners are emphasizing several next-generation capabilities, including:
the Oracle Customer Experience Cloud Suite helps customers redesign digital experiences with new models that amplify personal agency
the AI-infused Oracle Autonomous Database helps customers reimagine their business through human and AI collaboration
Oracle Cloud Applications for autonomous systems with internet of things, blockchain, ML and AI help customers unlock new opportunities by introducing robots outside the enterprise – something that was given extensive marketing in the three Ironman movie launches.
On the face of it, Oracle's 2020 offerings are a sea change from its 2017 offerings. The illustration below outlines the differences.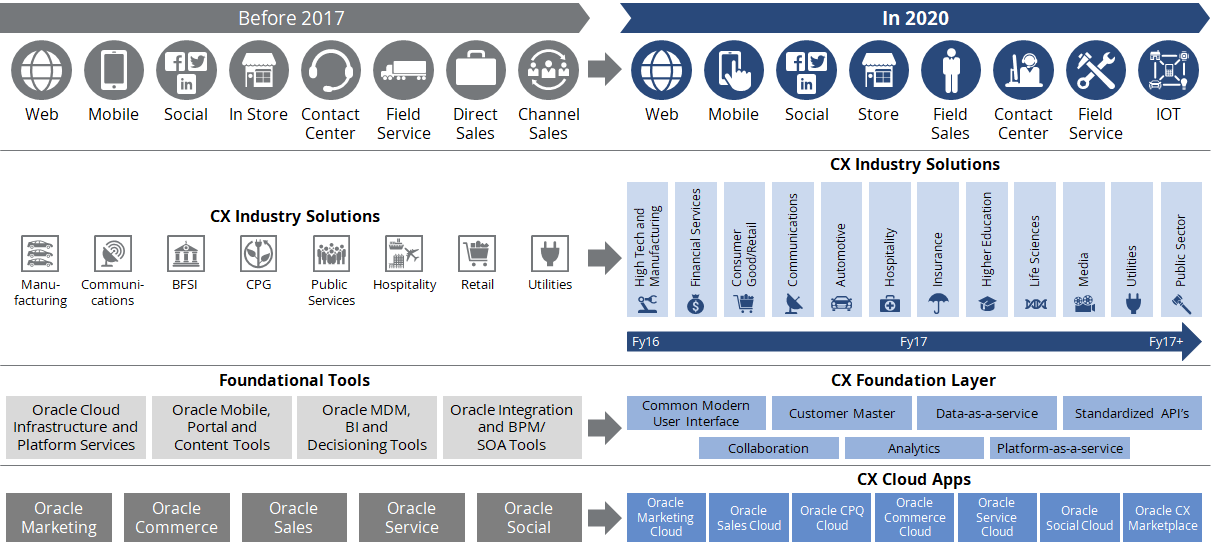 There is more to the upgrade than meets the eye. For example, Direct Sales and Channel Sales have been consolidated, Field Service has been rebranded to Field Sales and IoT has been added. The 2020 Customer Experience (CX) Solutions are oriented to specific industries, with the addition of Media and Life Sciences; BFSI has been split into Financial Services and Insurance.
Oracle's Foundation Tools have been disaggregated, reshaped and rebranded into the 2020 CX Foundation Layer to include the Common Model User Interface, Customer Master, Data-as-a-Service, Standardized APIs, Collaboration, Analytics and Platform-as-a-Service. The new CX Cloud Apps include Marketing Cloud, Sales Cloud, CPQ Cloud, Commerce Cloud, Service Cloud, Social Cloud and the Oracle CX Marketplace.
This rebranding reflects competition from Salesforce and investments SAP is making in this space.
Oracle's core banking suite is among the many leaders in the core banking space. Using the right modules to enable dual core banking will allow banks to become nimbler and face competition from Neobanks, Techfins and Fintech players.
All these changes have complex licensing, cost and compliance implications. To fully understand the ramifications of acquiring new technologies from Oracle – and how to maximize the value of Oracle investments – enterprises must first understand their existing entitlements and any contrast to their actual utilization. They must take a three-to-five-year strategic view of their planned consumption and Oracle product requirements and design a strategic sourcing strategy that aligns with that view. The difference between doing this well and not doing it well can be a multi-million-dollar difference.
There is clearly a new bottle. The aftereffects of the wine need careful examination.
ISG helps companies navigate the software licensing process with Oracle and other major vendors. Contact us to discuss how we can help.
About the author
Yadu Singh is a member of the ISG CXO Services team and an experienced business transformation and collaborative sourcing professional with over 20 years of consulting and management experience.